We stock the Australian Model Railway Magazine.
December issue now available.
Brunel Hobbies is now a licensed Second-Hand Dealer.
We will purchase any quality items and accept items on consignment. Please ring or talk to Mary or Justin to discuss any items you may have and ascertain our conditions.
Ask about our
Lay-By Scheme
Gift Certificates
Customer Loyalty Scheme
Note that the actual prices may vary from those listed on this web site. While every effort is made to keep prices up to date this is not always possible particularly in view of the recent fall in value of the $A.
Need a decoder fitted into your locomotive? Want sound? We can do it for you.
We install and configure DCC decoders, including sound, into most locomotives. Ask for information and a quote.
Brunel Hobbies now purchase or sell on consignment second hand trains, books, plastic kits, etc.
Brunel Hobbies is a Licensed second hand dealer.
Bring your items in for a valuation or to sell on consignment. Ask for John or Mary.
Haskell WA L Class reduced to $260 each.
The L Class from Southern Rail now on Special for $340 each (excludes sound versions).
Illustrated is the Southern Rail L14 L Class.
Scalextric
Contintental Sports Cars in stock. Price $165.
Train Hobby - New Release
Just released. Country Branch Lines Victoria Part 10 - Western Region. Patchewollock, Yaapeet, Yanac, Bolongum. Special price: $39.
Carrera Slot Cars
A new range of Carrera GO! slot car starter sets are now in stock. They vary in price from $175 to $119.
Model Railway Backscenes Now Available

A range of new backscenes are now available. These backscenes are highly detailed and are now available printed on a "sticky back" poly-cotton photographic paper as well as on a quality heavyweight paper (189gsm). The "sticky back" version can be reused up to 200 times and can be stuck to a smooth backdrop surface. Positioning is easy and if you get it wrong then it can be pulled off partially or completely and repositioned.
These backscenes have a flat matte finish that does not reflect light and is of photographic quality. They are UV light resistant and will not fade.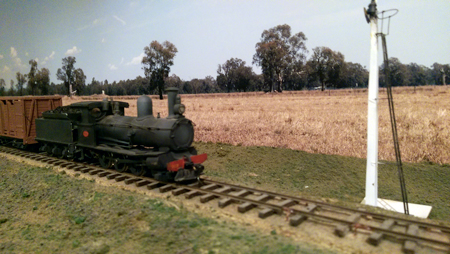 A model railway with a backscene in place showing how realistic they make the layout appear.
My Railway Days
The book "My Railway Days" by John Dare is now in stock. This book contains nostalgic images and memories of Victoria's changing railway system from 1970 t0 2007. Contains railway maps of Victorian Railways 1970 and 2007. 160 pages. Price $75.
Closed but not Forgotten
The new DVD from Channel 5 on Branch Lines of Victoria's North East. Special price $32.
Narrow Gauge "Puffing Billy" NAB/NAC Coach Available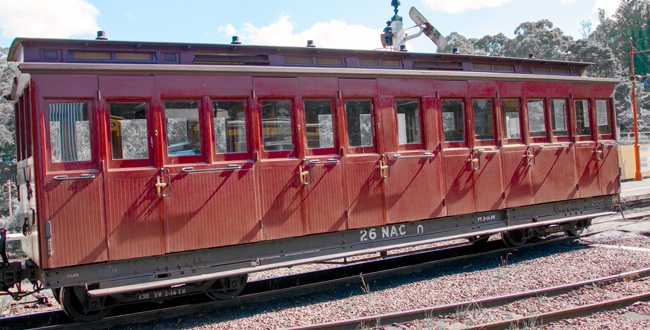 An NAB/NAC coach kit is now available for just $70.
Brunel Hobbies eBay Shop
The Brunel Hobbies eBay shop temporarily has few listings due to new rules from eBay. We are relisting items (particularly paint) in a new and easier format for customers to purchase.
For information on purchasing paint while they are not listed on eBay please see our new alternative methods of purchasing.
We accept all major credit cards, EFTPOS, direct bank transfer and Paypal and have a web based secure payment system for payment by Visa and Mastercard.


We Specialise in Mail Order within Australia and throughout the World
For details of costs, insurance, payment see How to Buy.
Note that due to the continuing fall of the $A coupled with increasing manufacturing costs, that prices of some products will rise as we restock.
As a result, although we make every effort to keep prices correct on this website, we cannot guarantee that they are accurate as prices can change every time we reorder an item.