VR Goods Shed Platform HO
| | | | |
| --- | --- | --- | --- |
| Code | Description | Availability | Price A$ |
| BMGS-1 | VR Goods Shed Platform HO | In Stock | $29.50 |
Construction Instructions.
You can print these instructions by printing directly from your browser (file > print) or by opening and printing a pdf version of the instructions (166kB).

Step 1: Glue the first row of stumps into the base board with the slots facing outwards.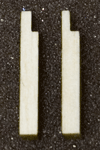 Note that there are two types of stumps as shown - the one on the left is for each row at the back and front of the base board. It is in the bag with the cross braces. The others are to be used for the other 4 rows of stumps. Note that the front and back rows of stumps allow the large horizontal beam to protrude out further than the front of the stumps. For each of the other rows of stumps the beam is flush with the stump fronts.

Step 2: Glue one of the horizontal beams across the tops of the row of stumps as shown. Then glue in place the next row of stumps and glue a beam in place.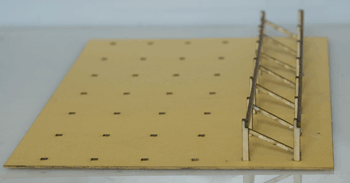 Step 3: Glue the cross braces in place as shown.

Step 4: Glue the next row of stumps and beam in place.

Step 5: Complete the assembly remembering to face the last three rows of stumps in the opposite direction to the first three.

Step 6: Position and glue the platform decking in place.